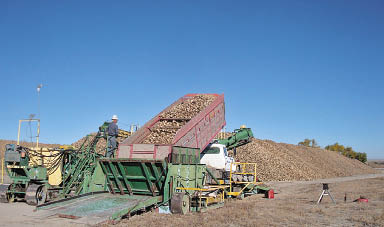 A crowd of some 50 dignitaries, sugarbeet growers and Wyoming Gov. Matt Mead attended the groundbreaking ceremony for two new silos at the Wyoming Sugar Company's refinery April 24 in Worland.
The new storage silos will allow Wyoming Sugar to increase its storage capacity so sugar produced at the Worland plant can be marketed year–round, said Vince Salzman, company vice president.
"This investment in infrastructure is important to sugarbeet growers in the Wind and Big Horn Basins," said Mead. "The new silos give them a means to better compete in a tough marketplace and should be a boost to farmers, the community and the economy. I am proud to be a part of the groundbreaking."
Estimated cost of the project is around $5 million, and work is scheduled to be completed by the end of the year.
Wyoming Sugar operates two sugarbeet receiving stations in Fremont County, one midway between Riverton and Shoshoni on Wyoming 789/U.S. 26, north of the Missouri Valley Road, and the other at Midvale at the intersection of Wyoming 134 and the Eight Mile Road.
This past season, 1,015.6 acres of sugarbeets were grown on the Midvale Irrigation District with a 26.87 ton per acre yield giving the crop a value of $1.8 million.
Source: County10.com