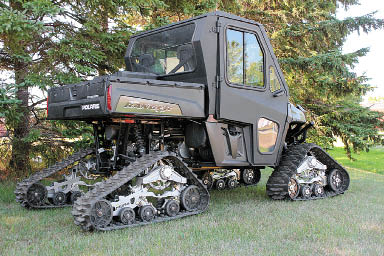 Mattracks, the innovator of 4x4 rubber track conversion systems, introduces the M3 Plus system for side-by-side utility terrain vehicles.
With 20 years of 4x4 pickup, tractor and ATV/UTV rubber track system design and development, engineering and manufacturing experience, the new M3 Plus system will enable your UTV to go where wheeled vehicles cannot.
The new M3 Plus system will give you greater performance in deep snow and still allow you to use this system year–round. With minimal power loss, you will still have the maximum performance capabilities in any operating conditions.
With an approximate 51-by-13-inch footprint, which is 12 inches longer than the standard track, the rear track on the M3 Plus provides unbelievable floatation in deep snow, sand, mud, swamps or any challenging terrain. Its self-cleaning system allows the snow, sand, rocks, or any other debris to be ejected from the inside of the track so you are not losing riding time. Coupled with the M3 aggressive lug pattern and built-in suspension, the traction is outstanding.
Call 877-436-7800 or visit litefootatv.com.