800-658-5085• doublelglobal.com
Double L 900 Series Truck Bed
The Double L 900 Series Truck Bed is a multi-purpose, self-unloading truck bed that meets all your harvest and handling needs.
Our load-sensing dual-drive belt system can keep pace with the competition under any load. Whether it is hauling sugarbeets, potatoes, grain or onions out of the field, the Double L truck bed will deliver with dependability and durability.
Have you ever seen a truck bed unload fertilizer?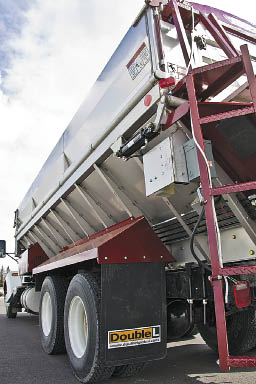 Probably not. Fertilizer would quickly eat through the metal. However, with the Double L stainless steel self-unloading truck bed, you can unload practically anything in a matter of minutes. It's the only true multipurpose truck bed on the market.