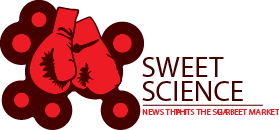 Sugar Producer magazine is launching another way for growers to stay current with what's happening in the sugarbeet industry.
Relevant information that's quick and easy to digest will be delivered to you by an eBlast on all digital platforms. Look over the latest news on your mobile phone, for example.
Twice a month, growers will get an eBlast with links to top stories on our website at sugarproducer.com.
To get started, just click on the Sweet Science logo on the bottom of the left-hand side at sugarproducer.com to subscribe. It's that easy.
NipsIt Suite Sugarbeets System and Metlock Suite Sugarbeets System from Valent U.S.A. Corporation are proud to sponsor Sweet Science. The advanced chemistry of these products offers the best fungicide protection from key diseases, including early-season Rhizoctonia. To also get protection from key insects, choose NipsIt Suite Sugarbeets.
Valent is committed to bringing the latest technologies and innovative seed protection solutions to the sugarbeet industry.