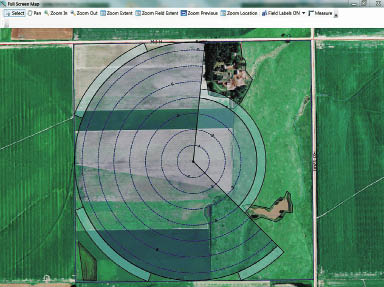 Reinke Manufacturing, Inc. now offers Reinke Design Pro, Version II. Reinke worked closely with Ag Connections, Inc., a Kentucky-based crop management software design company, to develop this new version of proposal software. The program features a custom design to incorporate Reinke products, and will allow Reinke dealers to geo-target a grower's property where they are interested in installing an irrigation system and develop customized field options.
Reinke Design Pro, Version II is currently the only software of its kind available on the market. Its complex mathematical algorithms work with USDA high-resolution, geo-referenced aerial images to place pivots and accessories on top of the exact piece of land that a grower is considering for an irrigation system.
With the help of the program, growers can see the precise location and how a Reinke center pivot, lateral move, swing arm corner, drop span or wrap span would perform on their property. The software is able to show the preciseness of such Reinke equipment within an inch. Reinke dealers are then able to create a customized report for the grower showing what options are best for their field.
Visit www.reinke.com.