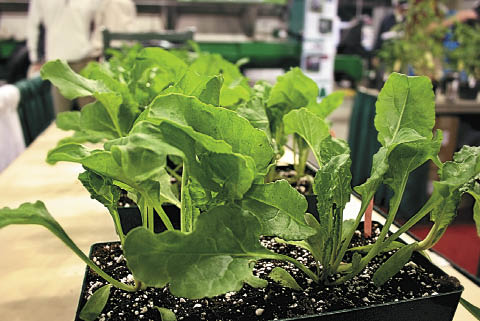 This year the tour for 2012 will be held June 27. Don Morishita, Professor of Weed Science and Extension Specialist, exclaims that the tour is being held a week later this year.
Morishita says, "In sugarbeets this year, I'm planning to look at: 1) the effects of different adjuvants used with glyphosate for weed control; 2) the timing of sprinkler irrigation incorporation of soil-active herbicides; and 3) tank mixtures of glyphosate with other herbicides and insecticides or fungicides to see if there are any negative effects with these kinds of tank mix applications.
Erik Wenninger, Assistant Professor of Entomology and Extension Specialist, is working on projects that include:
• Conservation tillage in sugarbeets (with Neher, Morishita and Neibling). We will conduct a third-year of a three-year project comparing strip-tillage versus conventional tillage under different irrigation regimes.
• The effects of leafminer flies on yield in sugarbeets (with Carl Strausbaugh). I will conduct the third-year of a three-year project investigating effects of beet leafminer flies on sugar yield. This will include a storage component to study during 2011 and 2012 to examine whether leafminer damage influences sugar content over time in storage.
• A study on insecticide trials for beet leafminer flies and bean aphids. We will examine efficacy of currently registered and unregistered insecticides against leafminers and bean aphids.
• Also, insecticide trials for beet leafhoppers and curly top (with Carl Strausbaugh) to examine efficacy of currently registered and unregistered insecticides against leafhoppers and curly top.
• Studies on sugarbeet root aphid insecticide and resistant variety trials. We planted a field to common lambsquarters during 2011 to attract sugarbeet root aphids. The field will be planted to sugarbeets in 2012 so that any overwintered aphids can infest the beets. Insecticides and resistant varieties will be tested for efficacy against aphids.
Oliver Neher, Assistant Professor, Extension Plant Pathology, explains that this year the university is going to change gears a little bit. "We are focusing our efforts more on the control of Rhizoctonia crown and root rot and the environmental conditions affecting disease onset and severity.
"Our main focus is on fungicide application timing and the effects of irrigation schedules and amount. In addition, we will be looking at Rhizomania with a special focus on disease onset and the effects of different irrigation amounts.
"The above studies will be conducted in collaboration with Howard Neibling, U of I and Dr. Carl Strausbaugh, USDA-ARS. We will certainly continue our ongoing fungicide trials for the control of Rhizoctonia crown and rot root as well as for the control of Powdery mildew.
"In conjunction with our fungicide trials for the control of powdery mildew, we will screen all ID experimental and commercially available varieties for their tolerance against powdery mildew. This variety trial was initiated based on observations made during an integrated pest management study, where we tested the effects of tolerant varieties under different fungicide schedules.
"We could observe that tolerant varieties only needed to be sprayed once or under mild disease conditions not at all. Highly powdery mildew tolerant varieties could help our growers to reduce and perhaps eliminate fungicide applications that are intended to control powdery mildew.
"We are continuing this IPM study with three different varieties expressing a range of responses to powdery mildew (ranging from susceptible to highly tolerant) under three different fungicide application schedules."