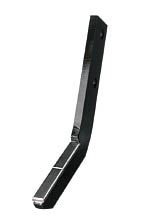 Pioneers in the process of carbide applications to seeding openers, Atom-Jet Agriculture is proud to introduce their new line of carbide power hiller tines­—improving wear-ability and the life of tines an average of 8–10 times longer as compared to hard surfacing.
The company has been in the seeding opener business for over 20 years and has industry leading experience in development, design and application of tungsten carbide to ground engagement tools. Atom-Jet Agriculture was the first company to institute the use of carbide on seeding tools—a practice now used the world over and since then has continually improved the development of carbide composition makeup and invested considerably in brazing technology. The patent-pending tines have been developed for popular brands such as Struik and Baselier, and the company continues to work with producers for development of tines specific to their own brand and type of power hillers. Atom-Jet Agriculture is well-known for assisting producers find solutions to problems that increase their productivity and profitability. There is no doubt that growers will find considerable value in the new carbide tines.
Atom-Jet Agriculture 800-573-5048 or visit online at www.atomjet.com.